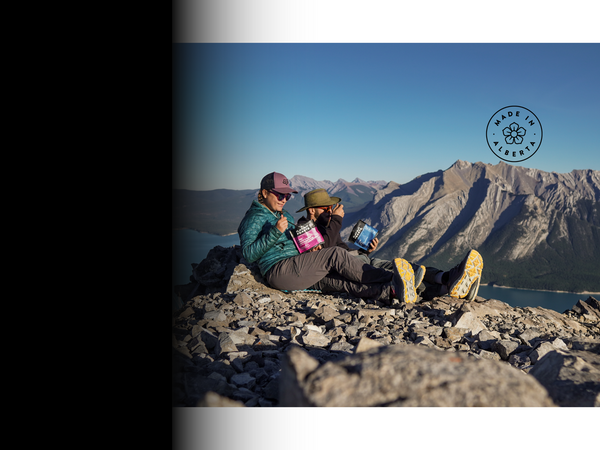 Better Backcountry Meals.
Eliminating the "fluff" of cheap carbohydrates, our delicious freeze-dried meals are made with just the good stuff to help you go flat-out on your next adventure.
Shop All Feasts
No fluff. Just the good stuff.
LOW CARB, HIGH PROTEIN
All our FEASTS have 9g or less net carbs and are keto-friendly. Plus, each pouch has 36 to 59g of protein.
Protein and fats digest slower, so you have more consistent energy for longer, compared to high carb meals that can leave you feeling hungry a few hours later.
REAL FOOD FOR REAL ADVENTURES
No more chewy food: our freeze-dried meals maintain their delicious taste and true texture as if they were just made fresh. Plus, freeze-dried food retains the vast majority of its nutritional value - more than other dehydration methods.
Unlike many others, we aren't re-packaging dried ingredients. We get fresh ingredients, cook and prepare them together with delicious spices, freeze-dry, and package all in-house.
ULTRALIGHT & READY IN 5 MINUTES
Just add hot water, and your FEAST is ready in 5 minutes. Whether you're making miles, summiting mountains, or exploring the wilderness, our meals are ready when you are.
All FEASTS are in the ultralight category for calories per ounce, so you can go farther while staying lightweight.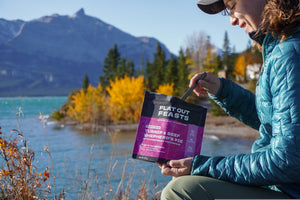 1 (REAL) SERVING
Who are they kidding... we all know other meals sold as "2 servings" usually aren't enough to feed 2 hungry people. Our FEASTS are 1 hearty serving, packed with protein and delicious ingredients that will satisfy your hiker hunger.
Our single serving meals usually have more calories and protein than other brands' "2 servings" combined. That's true value!
Not keto? Add an instant pasta or rice to make 2 servings without paying a premium for those easy-to-add-ingredients.
Don't just take our word for it... Here's what the people think!
This is the single best dehydrated meal I have ever had. I would have been happy to be served this at a restaurant it's so delicious!!!!! My only regret is the first time I had it, I shared it with someone else.
Jon L
Wow, hiking the PCT and had my first flat out feasts dinner. The Cheesy Chicken Casserole blew me away! I have never tasted freeze dried food this good, not even close. Wow again.
Dave Hockey
From the very first bite, we were blown away by the fantastic taste and convenience of these freeze dried meals. The fact that they were specifically tailored to the ketogenic diet made them a perfect fit for our nutritional needs. Each meal was bursting with flavor, far surpassing our expectations for a freeze dried option. We cannot recommend these keto freeze dried meals enough.
Christine McAuley
I cant believe the amount of beef in this! Tastes great and generous portions.
Jesse Hebenton
Flat Out Feasts In the News
Inspired Soles Podcast
Pacific Crest Trail Thru-Hiker Turned Ultra Runner: Lisa was invited to chat about her experience thru-hiking the PCT, how this led her to do a 100 mile ultra and create Flat Out Feasts, and what it's like doing all that with type 1 diabetes! Listen here.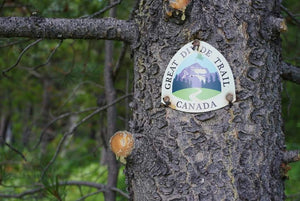 5% off for GDTA members!
We're a proud supporter of the Great Divide Trail Association, dedicated to maintaining and protecting the GDT's wilderness experience. By becoming a member, you're supporting the trail experience that you love and contributing to the completion and long-term preservation of the Great Divide Trail.
Email us your membership confirmation to get a 5% off discount code for your Feasts! hello@flatoutfeasts.ca
Become a member